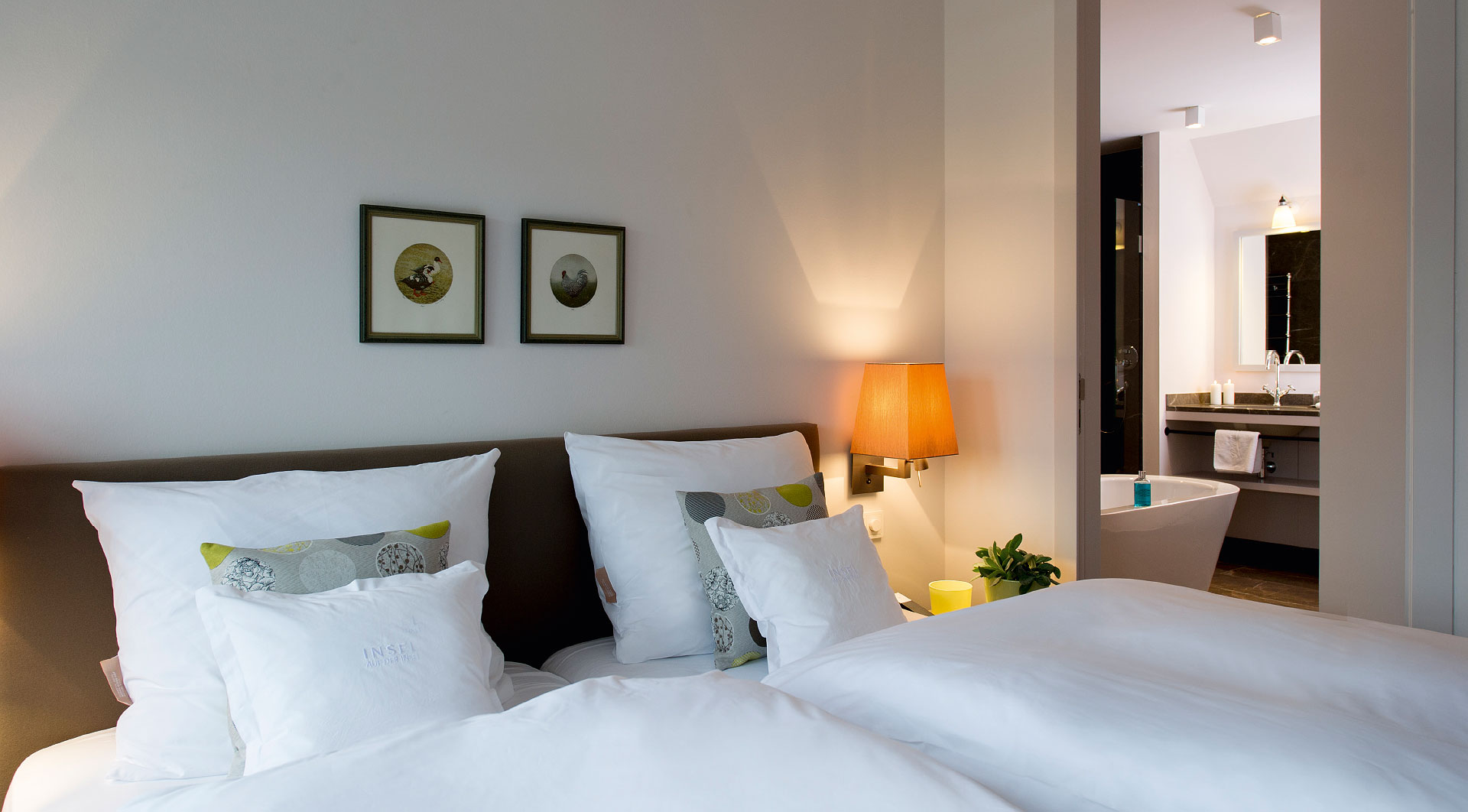 It all started small – with just 18 rooms, which the former farmer Claas Johannsen and his wife Sara ran in the 1970s. Today there are 50 rooms, suites, hotel apartments and studios at the BENEN-DIKEN-HOF, which are spread over 9 thatched houses. Opposite the main buildings Kapitänshüs, Norderhüs and Westerhüs, which are connected by gallery corridors, are the separate flat houses Fortunahüs, Dikhüs and Süderhüs; behind the main buildings is Terphüs with its meeting room for 16 participants. In 2013, the Senhüs and the Lönhüs were added. They are partly equipped with private SPA and fireplaces, offer a lot of privacy – and additionally the service of the hotel.
Despite the constant growth, the BENEN-DIKEN-HOF has always retained its original charm and inviting warmth. All rooms and areas of the hotel have been furnished by the Johannsen family in a sophisticated country house style. The rooms with sash bar windows, oak floorboards and natural stone floors are typically frisian – elegant, but also cosy and comfortable, so that you feel at home immediately.
In the center of our hotel philosophy is the term TIME.
It can be found in our respect and attentiveness towards all guests, in the appreciation of their TIME, which they spend with us.
And so we dedicate all our attention to our guests at all times, so that they feel comfortable and can really relax. We always have TIME for them. This applies to each of our employees.
Just as the tides of the sea change from day to day, so the experience of our island changes with the seasons and their special characteristics. With our arrangements we try to follow them. Every single one of them should reflect a special TIME that is attractive for our guests.
Our reception is staffed daily from 6:30 to 21:00.
10% discount on our valid hotel unit prices .
only valid for new bookings . on request and subject to availability . limited contingent

Please book directly viaTelefon or Mail or
from 2 Nights + PamperingTimes
29. BENEN-DIKEN GOLF CUP 2023
Golfing on Sylt is something very special, especially with nice people and at one of the most beautiful times of the year on Sylt. The BENEN-DIKEN-HOF GOLF CUP goes into its 29th round this year.
from 2 nights . incl. breakfast buffet
>>>
TIME ON SYLT
The seasons with their different characteristics determine life on Sylt and at the BENEN-DIKEN-HOF.
In order to do justice to their special features and highlights and to make it easier for our guests to choose their stay, we put together special hotel arrangements every year – TIME ON SYLT.
They are supplemented and highlighted by our restaurant events, SPA arrangements, hotel events and highlights from the range of general events on Sylt!
4 nights + PamperingTimes
Sylt in autumn is always worth a visit. Experience shows that there are still many sunny days with blue skies, snow white clouds and light wind. The nature of the island shows itself in autumnal colors, the heath in the dune landscapes shines in dark red.
from € 845.00  in double room per person
from € 1.310.00  in single room per person
>>>
3 nights + PamperingTimes
WellnessTime in the BENENEN-DIKEN-HOF – that means first and foremost pleasant relaxation in our WOLKENLÖN SPA, in sauna, swimming pool, relaxation room. Enjoy the massage and facial treatment included in our WellnessTime.
from € 670.00  in a double room  per person
from € 945.00  in single room  per person
>>>
2 nights + PamperingTimes
Get to know the BENEN-DIKEN-HOF and its cosy Frisian atmosphere, try our RESTAURANT KÖKKEN offer, relax in our WOLKENLÖN SPA. With our ExperienceTime  this should be possible.
from € 400.00  in a double room per person
from € 590.00  in single room per person
>>>
7 or 6 nights + PamperingTimes
Now is the time to spend the evenings comfortably in front of the fireplace. It is nice to sit in front of the crackling fire, look at the flames and follow your thoughts. Enjoy the cosy warmth.
from € 1.330.00  in a double room per person
from € 1.955.00  in single room per person
>>>
4 nights + PamperingTimes
Enjoy Sylt and the BENEN-DIKEN-HOF in the pre-Christmas season. With our arrangement »AdventTime« we have put together an attractive offer. We are looking forward to our guests.
from € 765.00  in a double room per person
from € 1.095.00  in single room per person
>>>